Julie Langan & Pat Reynolds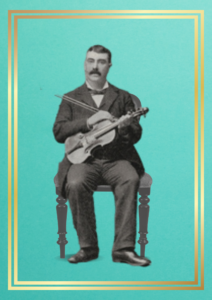 John McFadden was born in Carrowmore, Newport, County Mayo between the years 1844–1853. He was the son of William McFadden and Mary Gorman. We are not too sure yet where the McFaddens lived after eviction from Carrowmore in 1861–63 and before emigrating to America. We do know that John McFadden emigrated ~1870, first to Cleveland. There he married local native Sarah McCann, in St. Malachi's parish, in 1875. Their first child, Maria, was born in 1876, followed by Sarah (1878), Thomas (1880), Eliza (1881), Martin (1883), Sadie (1884), and William (1885). Around 1885–86, the family moved to Chicago, where his daughters Annie (1886), Alice (1888), and Lila (1891) were born. The question remains which of these daughters was the good-looking one that earned the title of the tune "McFadden's handsome daughter." He had 7 daughters and 3 boys – a céilí band, in musical terms. He gained employment in the City of Chicago Water Department.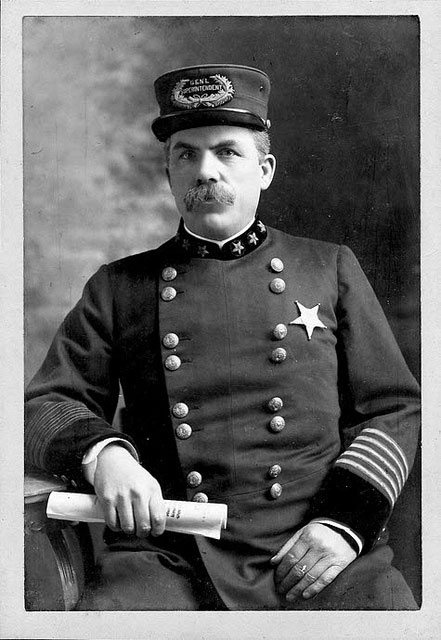 According to Chief Francis O'Neill, in his book Irish Minstrels and Musicians, "His father and brother were also fiddlers, and whatever little rudimentary instruction he got was picked up in the family." While in Cleveland he met flautist Michael White, from whom he learned "many of his best tunes," according to O'Neill. McFadden met O'Neill in Chicago in 1897. Of that meeting O'Neill had this to say: "Long before meeting this phenomenal fiddler the echo of his praises had reached our ears, and if we chanced to express our
appreciation of the playing of others in his class, someone would ask 'Did you ever hear McFadden?' …that we might save our applause until we heard this traditional star. When the opportunity was presented at the wedding of a friend in 1897, all our expectations were met but one. The airy style of his playing, the clear crispness of his tones, and the rhythmic swing of his tunes, left nothing to be desired, yet… His bow hand seemed almost wooden in its stiffness, and the bow itself appeared to be superfluously long, for he seldom used more than half of it."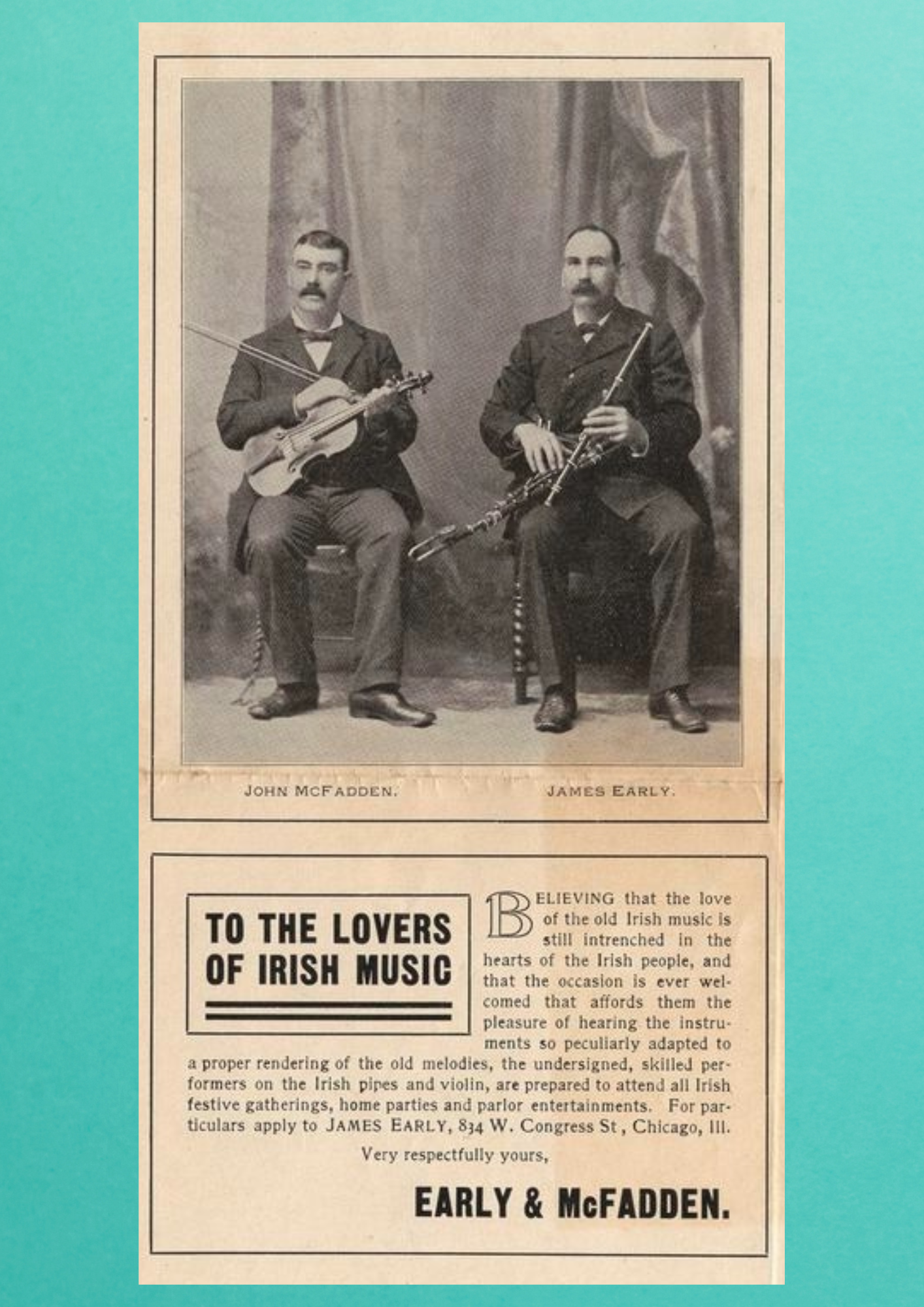 In Chicago, McFadden and James Early, a piper originally from Leitrim, formed a duet and played at many events and important occasions, and beyond Chicago in adjoining states. They were not above a practical joke, as told by O'Neill: "It was Bernard Delaney, I believe, who introduced to the Chicago pipers and fiddlers, an unpublished jig of rare traditional flavor known as 'An Bean Do Bhí Ceadna Agam' or 'My Former Wife'. The sudden popularity which it achieved became a source of no little embarrassment to its sponsor. It was one of the 'pet' jigs which he [Delaney] liked to play at public entertainments. When Early and McFadden happened to be on the same programme and came on the stage ahead of Delaney, the mischievous pair never failed to play his favorite tune." Their last performance was in 1913; Early died in 1914.
Around 1901, The Irish Music Club of Chicago was formed to professionalise Irish traditional musicians, holding regular meetings, and organizing Feis Ceoil and annual entertainments. O'Neill was president; McFadden was a prominent member of that group, which continued until 1909. McFadden contributed over 80 tunes to "O'Neill's 1850" tune collection. O'Neill added: "Possessing the gift of composition as well as execution, McFadden is the author of many fine dance tunes, composed without the aid of notes or memoranda… Quite a few of McFadden's jigs and reels were preserved by others who taught them to him over again."
O'Neill purchased an Edison Recorder in 1902 and McFadden was included in his recordings. O'Neill wrote that he gave "a dozen from John McFadden, our best traditional fiddler to his Reverence (Richard Henebry) in January 1911." Some of these cylinders have survived and can be heard online at The Henebry Collection at University College, Cork. The Dunn Family Collection in the Ward Irish Music Archives in Milwaukee also has surviving Edison cylinders of McFadden playing, which are available to listen to online.
In Irish Minstrels and Musicians, O'Neill tells a few stories about McFadden. He writes, "The facility with which McFadden learns new tunes is only equaled by his versatility in improvising variations as he plays them… Patsy Touhey... tried to learn Hawks' Hornpipe from McFadden. Phrase by phrase they progressed, Touhey submitting patiently to many minor changes according to Mac's fancy... Then he played it, apparently in good style, but not to his preceptor's satisfaction evidently. 'Let me show you, Patsy,' says Mac, in a kindly tone, and swinging his bow again ran the tune over once or twice. 'Why, man alive, that's not how you gave it to me at all! You've changed the tune again; I guess we'll let it go this time,' exclaimed Touhey, as he started to play something else on his pipes."
O'Neill says Mac was "an incorrigible, practical joker," and that "many who admired his music feared his eccentricities in this respect, and, though sacrificing friendship to his whims occasionally, John McFadden always had friends numerous and influential enough to keep his name on the payroll of the city of Chicago." To conclude, there is a story most musicians can relate to, especially in the days before mobile phones and "thesession.org." O'Neill writes: "One Monday morning I unexpectedly encountered John McFadden in the corridor outside my office in the City Hall, and wondering what could have happened since we parted the evening before, I asked, 'What brings you here so early, John?' 'I wanted to see you privately in your office, Chief,' he quietly replied. To my suggestion that we could transact our business just as well where we were as in my office, where so many others were waiting, he did not agree, so in we went through three intervening rooms. When the door was closed behind us, Mac did not keep me long in suspense. 'Chief, I lost the third part of Paddy in London which you gave me last night. I had it all when going to bed, but when I got up this morning, all I could remember were the first and second parts, and I want you to whistle the missing part for me again'. John McFadden died on the 9th of September, 1925, and is buried in Mount Carmel Cemetery, Chicago.