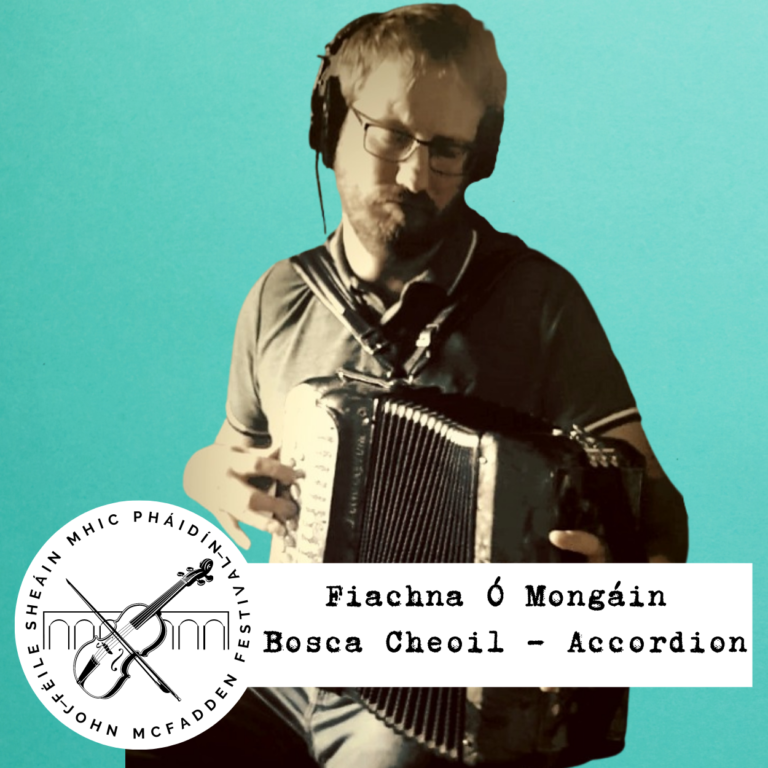 From Dumha Thuama in the Erris Gaeltacht in North Mayo, Fiachna Ó Mongáin is influenced by the music of local Erris musicians, past and present, as well as Joe Cooley, Tony MacMahon and Des Mulkere. Fiachna is a past recipient of the TG4 Gradam Ceoil Young Musician of the Year award. He has featured on a number of recordings, including the "Tunes in the Church" compilation, "Amhráin Iorrais" and "Music of Mayo (Ceol Mhaigh Eo)."
Boscadóir ó Iorrais í Chontae Mhaigh Eo is ea Fiachna Ó Mongáin. Bronnadh Gradam Ceoil TG4 ar Fhiachna sa bhliain 2007 (Ceoltóir Óg) agus bhí tionchar mhór ag ceoltoirí a cheantar fhéin agus a leithéidí Joe Cooley, Tony MacMahon agus Des Mulkere ar a stíl bhoscadóireachta.
Tom Doherty comes from a musical family in Foxford , Co Mayo. He started to learn the accordion from Martin Donoghue when he was four years old . Tom won his first All-Ireland on the concertina. He also as an All-Ireland title on the Melodion. He has since progressed to become a professional musician and music teacher. He has toured extensively in Ireland and Europe and the U.S. Tom's music is featured on numerous television recordings and CDs. Tom's playing is distinguished by his technical brilliance and innovative boldness. His energetic and soulful playing style is foot taping and dance infectious.