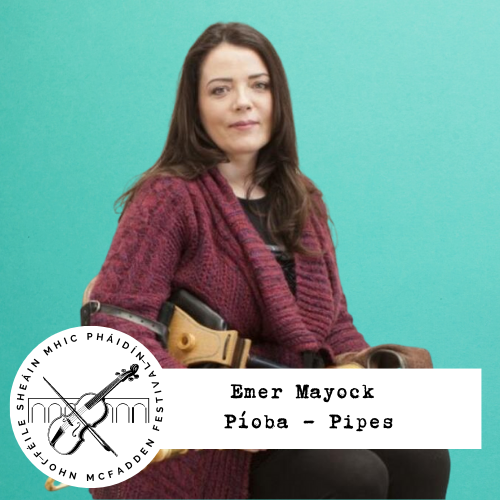 Emer Mayock is a musician and composer from Co. Mayo. She began to play traditional music during her childhood on a range of instrument including the flute, uilleann pipes and fiddle. She has released two CDs: 'Merry Bit of Timber' and 'Playground' - the latter continuing her interest in writing new music.
She has performed with countless traditional musicians including Paddy Glackin, Mícheál Ó Domhnaill and Sligo musician Peter Horan as well as travelling widely performing traditional music, her own compositions and forming collaborations with musicians from other musical traditions most notably with Breton flautist Jean-Michel Veillon. Other selected collaborations have included recordings and concerts with the Dhoad Gypsies of Rajasthan, Italian baroque ensemble il Giardino Armonico, jazz musicians Francesco Turrisi & Nick Roth, Bulgarian Kaval player Theodosii Spassov and more recently with
Rhiannon Giddens- Emer recorded with Rhiannon on 'They're Calling Me Home' which has won a 2022 Grammy Award for Best Folk album.
Emer's collaboration with uilleann piper Mick O'Brien and fiddle player Aoife Ní Bhriain involves the exploration and recording of tunes from the Goodman Manuscripts collected in Munster in the 1880s. In 2014 they were the recipients of the TG4 Gradam Ceoil award in honour of their CD recording Tunes from the Goodman Manuscripts. In 2021 they released a new recording of music from the manuscripts entitled More Tunes from the Goodman Manuscripts further exploring the rich and diverse repertoire and deepening their musical interpretation of the music Emer has established and developed the Music of Mayo project which explores the rich traditional musical heritage of the county, past and present and creates a resource in which  the music and song of Mayo can be further researched, shared and celebrated (www.musicofmayo.ie).
Emer is a highly sought-after teacher both internationally and nationally as well as continuing to provide tuition at home in Co. Mayo on flute, whistle, fiddle and uilleann pipes.